Certified quality
University Hospital Cologne is obliged by law to operate a quality management system. Quality management leads to processes functioning smoothly, and enables the quality of the processes to be continuously improved to ensure that patients and employees are satisfied. Certification is currently voluntary.

Consumer expectations about the quality of healthcare services continue to rise. We have had selected practices and services assessed by independent certification bodies to enable you to evaluate our diagnostic and therapeutic services.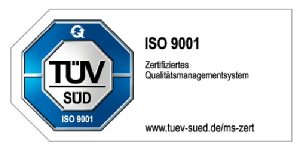 The Institute of Human Genetics is the first Institute at the University Hospital Cologne certified under the new DIN EN ISO 9001:2015 standard. In July 2016, TÜV Süd confirmed that the Institute meets all relevant requirements of the current ISO 9001. The Institute has a quality management manual that was development together with all of the employees in diagnostics and counselling.
The QM manual outlines all processes within the Institute in a detailed and transparent manner; it is available to all employees. The QM system is continually further developed and "experienced" in the context of regular staff meetings. Suggestions for improvement are discussed and, if necessary, implemented in due time.
Annual internal and external audits ensure that the quality and efficiency of processes and procedures are reviewed and new methods are validated and established according to standards.